2017
Information for Participants
2017
Travel
The John Anderson campus is about a 20 minute drive from Glasgow airport, although during the rush hour it can take considerably longer.
There is a frequent bus service (the Glasgow Shuttle) from the airport to Buchanan Street Bus Station (see campus map), from where the campus is a 10 minute walk: the bus ride is usually almost as quick as taking a taxi. A single ticket currently costs £7.50 and an open return £10.00. Tickets can be purchased online, or on the bus.
Discounted taxi fares are available for delegates for journeys between Glasgow Airport and the City Centre with Glasgow Taxis: pre-book your taxi by phoning +44 (0) 141 429 7070 and use the code CM7 (Glasgow Airport to City Centre) or CM5 (City Centre to Glasgow Airport) to get a set fare per journey of £21 (saving you approximately 10% on the standard fare).
Both Central and Queen Street Railway Stations are within 10/15 minutes walking distance of the campus, or alternatively a short taxi journey (c. 5 minutes).
If you are arriving by taxi, ask the driver to drop you on Collins Street (off Cathedral Street) and walk to the Village Office (for accommodation) or the John Anderson Building (to register) from there.
2017
Campus map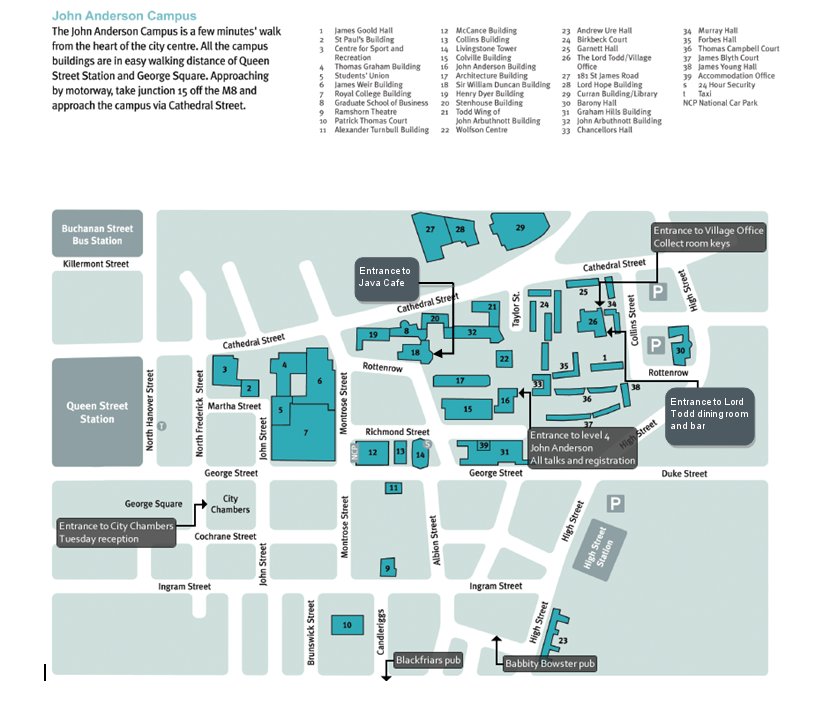 2017
Accommodation
Accommodation is in study bedrooms in the Campus Village.
On arrival, keys should be collected from the Village Office (Weaver Street, Glasgow G4 0NP, tel. 0141 548 2434, entrance as marked on building no. 26 on the campus map). The office is open 24 hours a day.
Check in time is from 14:00 on day of arrival; check out time is 10:00 on day of departure.
Please note that there may not be internet access in the accommodation blocks.
There is a television in the communal lounge area in each block and there is a coin-operated laundry facility located next to the Village Office.
2017
Meals
Breakfast and dinner (Tues, Wed) will be served in the Lord Todd building (entrance as marked on building no. 26 on the campus map).
A buffet lunch will be served in the Urban Bean Java cafe (Tues-Thur) and in the foyer outside JA325 (Fri).
Breakfast is served from 07:00-09:00 each day, lunch and dinner times will be provided in the conference programme.
Tea breaks will be held outside JA325.
The conference dinner on Thursday evening will be held in the Trades Hall of Glasgow, 85 Glassford St, Glasgow G1 1UH.
Note that dinner is not provided on Monday evening, but there are many bars and restaurants a short walk from the campus.
2017
Registration
The registration desk will be located in the lobby of the John Anderson building (enter on Level 4 from Taylor Street as marked on building no. 16 on the campus map).
The registration desk will be open on Monday 26th June from 17:00-21:00.
The registration desk will also be open each morning from 08:30-09:00.
Outwith these hours, registration can be completed by contacting one of the conference organisers during tea breaks.
2017
Scientific programme
The conference will begin at 9am on Tuesday 27th June and finish with lunch on Friday 30th June. The full conference programme is available here. Abstracts are here.
2017
Audio-Visual requirements
All meeting rooms will be equipped with data projectors and laptops.
Speakers should come prepared to load their talk onto the conference laptop at the beginning of their allocated session.
Alternatively, talks can be emailed to the organisers (naconf@strath.ac.uk) in advance (in PDF or Powerpoint format).
Any speaker requiring any additional equipment should contact the organisers as soon as possible.
2017
Internet access
Complimentary WiFi is available throughout the campus from the 'WifiGuest' network, which should appear on the list of available networks on your portable device. This network uses the same authentication system as 'The Cloud' network found in public places across the UK. You can log in to 'WifiGuest' using existing 'The Cloud' credentials, or set up a new account which you can then use wherever 'The Cloud' is available.
More comprehensive internet access will be available to eduroam users.
Computer terminals will be available from 09:00-17:00 Tuesday-Thursday in room JA512 of the John Anderson Building.
2017
Eating and drinking
Lying just south of the campus, the Merchant City area offers a wide range of coffee shops, restaurants and bars.
For pubs, we particularly recommend Babbity Bowster (Blackfriars Street), Blackfriars (Albion Street) and the Drygate brewery (Drygate).
There is also a bar in the Lord Todd building next to the dining room.