2023
Participants
2023
Scientific Programme
The conference will begin at 9am on Tuesday 27th June and finish with lunch on Friday 30th June. 
The conference programme can be found here (updated 19th June). Enquiries about the programme can be addressed to Gabriel Barrenechea. The book of abstracts (updated 16th of June) can be found here
2023
Deadlines
Minisymposia proposals: 31 March, 2023
Abstracts for contributed and minisymposium talks: 30 April, 2023
2023
Registration
£475 - Full registration with donation, includes donation of early bird discount to Dundee Numerical Analysis Fund. This fund is used to provide partial support for some students, and participants from countries with limited resources, to attend the meeting.
£400 - Full registration, includes early bird discount of £75.
£300 - Student registration, includes early bird discount of £75.
£55 - Additional conference dinner.
Registration includes access to all conference sessions, lunch and coffee breaks, admission to the Glasgow City Chambers reception and one conference dinner. Additional conference dinner places may be purchased separately.
Please note that we are not able to provide accommodation for the conference.
2023
Campus Map
The university's online campus map, and an annotated pdf version can be used to locate the conference buildings. The registration desk in the John Anderson building is near the intersection of Rottonrow E and Taylor Street.
2023
Travel
The John Anderson campus is about a 20 minute drive from Glasgow airport, although during the rush hour it can take considerably longer.
There is a frequent bus service (the Glasgow Shuttle) from the airport to Buchanan Street Bus Station (see campus map), from where the campus is a 10 minute walk: the bus ride is usually almost as quick as taking a taxi. A single ticket currently costs £9 and an open return £14.80 when purchased online online or on the bus. Cheaper tickets are available on the First Bus app (currently £8.50 single and £14 return).
Both Central and Queen Street Railway Stations are within 10/15 minutes walking distance of the campus, or alternatively a short taxi journey (c. 5 minutes).
If you are arriving by car, please note that Glasgow's Low Emission Zone scheme comes into effect on June 1, 2023. More information can be found here: https://www.glasgow.gov.uk/LEZ.
Please note that under new rules, visitors to the UK may require an ATAS Certificate to conduct research. If you are a researcher on a standard visitor visa attending meetings, conferences, seminars or interviews, or giving speeches, and will not be undertaking research during your time in the UK, you do not need to apply for ATAS clearance. To check whether clearance is required, please see the information here.
2023
Accommodation
We regret that this year we are unable to provide accommodation for the conference as the University residence service has decided that it is not ready to resume letting out rooms to conference attendees and other visitors. The University is continuing to review the situation, and we hope that we will be able to offer accommodation for future conferences.
A pdf map of hotels in the environs of the campus can be found here here.
We have secured a number of rooms at the Moxy hotel (two blocks from the campus) at a preferential rate. Please, click use this​ link to book.
We have not authorised any third party to organise accommodation on your behalf. Please check carefully any email purporting to be from the conference organisers, as some attendees have been the target of phishing emails.
2023
SIAM UKIE Student Presentation Prizes
Prizes for the best student presentations (up to three) are sponsored by the SIAM UKIE Section. Each award will consist of a certificate and a monetary prize of £100. The purpose of the Student Presentation Prizes is to recognise outstanding scholarship by students in industrial and applied mathematics. We are grateful for the SIAM UKIE Section for sponsoring these awards.

2023
City Chambers Reception
Tuesday night's Civic reception in Glasgow City Chambers is hosted by The Rt Hon The Lord Provost of Glasgow.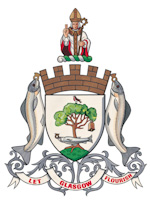 2023
The Leslie Fox Prize in Numerical Analysis
The 2023 IMA Leslie Fox Prize meeting will take place at Strathclyde University on Monday June 26th, the day before the Biennial conference starts. The Leslie Fox Prize competition is for young rising stars of Numerical Analysis and has since 1985 been
won
by many at the top of our field today. There is there is no charge for attendance at the Leslie Fox Prize meeting. More details on the meeting can be found
here
and
here
.